Probate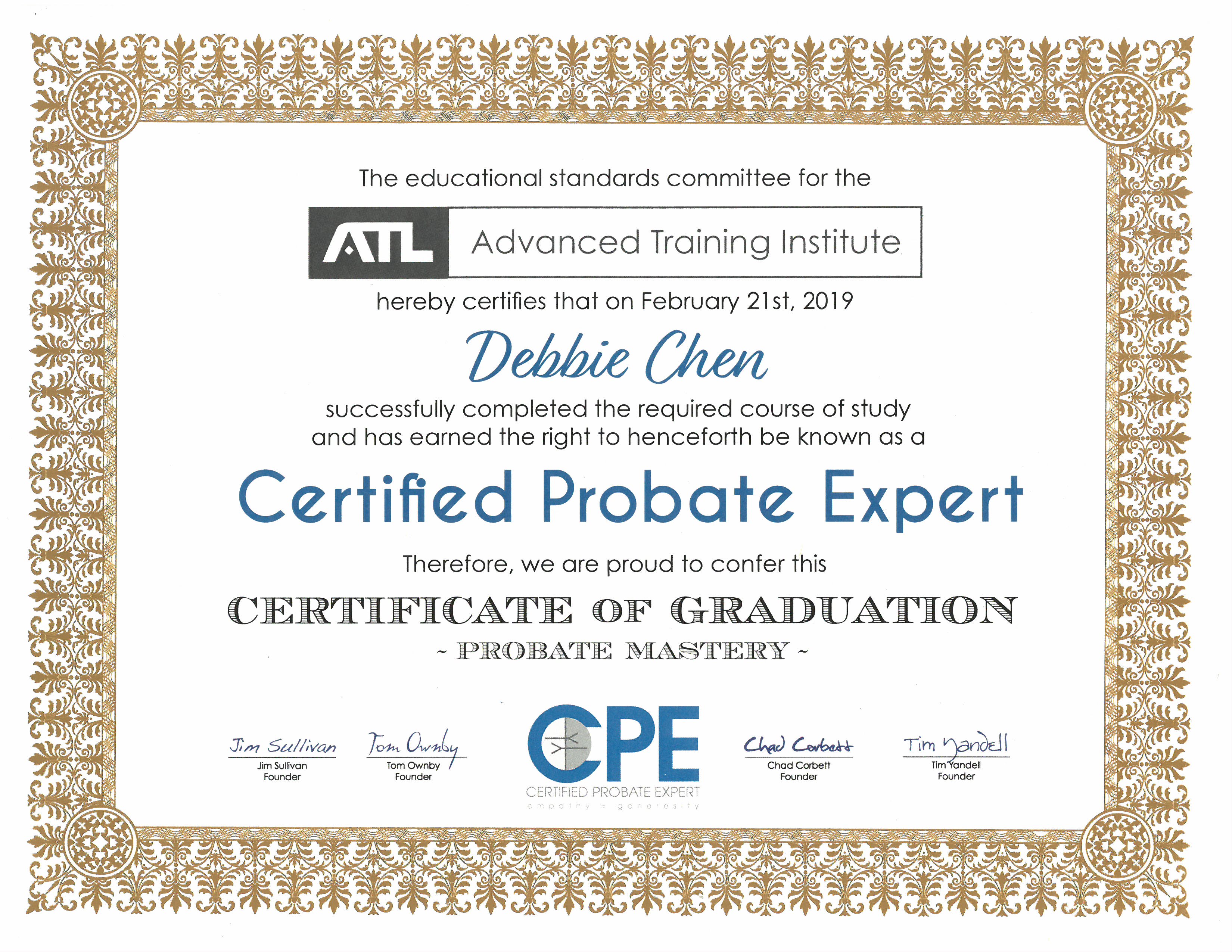 A network of local experts:
I have been a full time local agent for more than 12 years. One of my specialties is selling homes in estates. I have built a team of local professionals specifically to help the Executor or Executrix reach their goals of settling the Estate. Our team can provide value and ease during a time that is likely already stressful. Additionally, I speak Chinese and can assist any Executor who would benefit from that service.
We're here to help you in any way we can during this difficult time. So, whether you are ready to sell right away or just need some information, please feel free to call our office any time.
We can help with:
• An accurate valuation or analysis with recommendations to maximize sales price
• Saving time in the disposition of property
• Consult with family members & heirs to help achieve consensus
• Prepare a program to reduce the "Time on the Market" (set expectations)
• Arrange repair bids (to assure buyer finance underwriting & higher value)
• Refer you to an estate liquidator (Auction or Estate Sale) to appraise and/or sell the personal property
• Coordinate the clean out of the property and donate remaining personal property to charities
• Market and sell the residence, commercial property or business
• Obtain an "as-is" offer from a network of cash buyers/investors for expeditious sale
Below is some helpful information to get you started:
Probate Division
This is just a few of the contractors I work with. Please call me and I would be happy to put you in touch with any of them.
Inspectors:
House Detectives
Ken Giblin / Eagle Eye Inspections
David Walls / Action Building Inspections
Probate Attorneys:
Farleigh Wada Witt
Melissa Beyer
Rachel Edwards
Accountant/CPA
Wen Jiang & Company, PC
Repairs
Tyson Worf / Alpha Construction & Repair
First Call Heating & Cooling
Handyman, Juan Morales
Adam's Carpet
Portland Painting & Restoration
Framing & Siding
Georg Younger Framing
Performance Roof Cleaning
Sierra Excavation
Home Staging
Showcase Solutions
Hometender
MyHometenders.com
Photographer
Virtuance
True View
Cleaning
Maids by Trade
Estate Sale Companies
Hearts Decor
A&S Estate Sales of Oregon